Spring Breeder Tips
Ever wonder if you're overwatering? How early is too early to start planting? These breeders are giving you the tips you need to be the home gardener everyone on the block is talking about!
Terry Burke
Hot Pepper Breeder, Woodland CA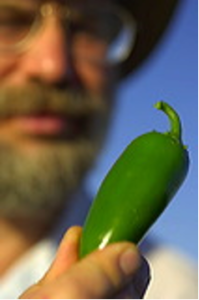 Peppers have three main requirements to grow:
1) a stable water supply (not too wet, not too dry)
2) a good fertilizer program, especially a high rate of nitrogen is beneficial; and
3) a good pest/disease management program (check with your local Master Gardeners or Extension service).  Good luck!
The picture is Emerald Fire brand jalapeno, an All-America Selections® winner.
Nischit Shetty
Cucumber Breeder, Felda FL

During variety selection make sure you look at the disease package because that could play a huge role in raising a successful crop.  Seminis Home Garden offers a variety of products with very good disease resistance.
Alan Krivanek
Tomato Breeder, Woodland CA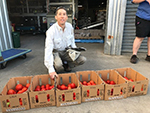 Don't rush to get tomato plants in too early in the Spring.  General advice is to wait to transplant your tomatoes until soil temperatures are above 60F, otherwise they just don't grow well.  To get to those soil temperatures, that usually means waiting until the overnight lows in your area are over 50F.
Brian Just
Sweet Pepper Breeder, Felda FL

Sweet bell peppers are one of the more challenging crops to grow well in a home garden.  They do not recover well after being damaged by over- or under-watering or weather events.  One of the key decisions a gardener can make is choosing a variety adapted to his or her area.  One key component to varietal adaptation is disease resistance.  You should be aware of the most common viral, bacterial, and fungal diseases of pepper in your area and choose varieties that resist them.  For example, gardeners in the more humid eastern USA will benefit greatly from planting varieties resistant to bacterial leaf spot (Xanthamos euvesicatoria) and phytophthora blight (Phytophthora capsica).  Gardeners in the dry western USA don't need to worry about bacterial leaf spot, but should choose varieties resistant to Tomato Spotted Wilt Virus (TSWV).
Stay tuned for seasonal tips from more of our breeders in the future!
Seminis® is a registered trademark of Bayer Group. ©2019 Bayer Group. All rights reserved. All-America Selections® is a registered trademark of All-America Selections Corporation.