Meet the 'Hottest' Man Alive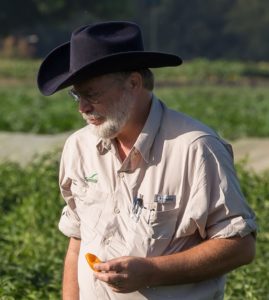 We tracked down Terry Berke, the hot pepper breeder for Seminis Home Garden, and asked him some burning questions about his profession and his string of All-America Selections® award-winning varieties.
What makes you the hottest man alive?
Hot peppers are hot right? A lot of people like them and I make new ones. It's the only vegetable with its own cult following. Chiliheads are an amazing group of people and they like their hot peppers.
Do you consider yourself a Chilihead?
You bet. I eat hot peppers almost every day.
What's the hottest pepper you've ever eaten?
The Carolina Reaper, and that was nasty. I was challenged to eat half of one, someone else ate the other half. We were allowed to mix it with our supper, but you couldn't drink anything, and that was bad.
How long did it last?
We took about 20 minutes. I mean, they're not that big, but that sucker's hot!
What are your hobbies other than eating hot chili peppers?
Gardening, growing vegetables, flowers, fruits. Any kind of gardening I like.
What's your favorite crop besides pepper?
Sweet corn. I wouldn't mind being a sweet corn breeder. I like eating sweet corn and I'm a sweet corn snob. Obsession is my favorite.
What's your favorite pepper?
I like jalapenos because they're so versatile. You can cut 'em up fresh and mix them with onion and tomato for pico de gallo, or you can just put 'em on the grill, or you can pickle them in vinegar and make nachos. You can smoke 'em and make chipotles. It's a very versatile pepper.
How many AAS® award winning varieties do you have, and can you tell us a little bit about each one?
I have eight. The first one was Mariachi [brand of Rio de Oro], the first hybrid Santa Fe Grande type and it was probably about 15 years ago. The second one was Holy Mole [brand of Salvatierra] the first hybrid Pasilla. Both of those didn't have much trouble winning because there was nothing to compete against. Then there was a year where there were four winners in one year, that was Hot Sunset [brand of SV3301HW], Sweet Sunset [brand of SV3782PP], Flaming Jade [brand of SV5633HT] and Flaming Flare [brand of SV5232HY]. That was nice. Then there was Emerald Fire [brand of SV7017HJ], the jalapeno. Then more recently we had Roulette, my sweet habanero. A very unique hybrid.
What do you enjoy most about pepper breeding?
Probably the diversity. Every day is different. Some days you're in the field, other days in the greenhouse, other days you're traveling or working on a computer. The diversity of the fruit types.
You get to travel all over the world, right?
Mmm hmmm. I tell people I get paid to fly all over the world and eat hot peppers. It's a great job. The last three years or so I've been to places like India, Israel, Peru, Guatemala, Mexico. If you like to travel, it's a great job.
What's your favorite AAS® winner?
I'd have to say Roulette is probably my favorite AAS winner. That habanero flavor is pretty unique, and to have it in a sweet background gives you a lot of room to play. And if you try both the green stage and the red stage, the flavor profiles are quite different.
To learn more about Terry's work as a hot pepper breeder, check out this video of him talking about his breeding programs and over 20 years of breeding experience.
Terry's All-America Selections® award-winning pepper varieties: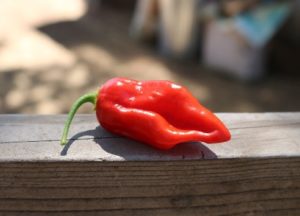 Roulette
– All-America Selections® National Winner (Low Heat Habanero)
Take a chance on a different kind of habanero. With all the aromatic qualities of a traditional habanero, Roulette has almost none of the heat. Mildly pungent and smoky, Roulette produces fruit with about 100 Scoville units, making it a welcome addition to mild salsas with extra character. You're a winner every time with Roulette.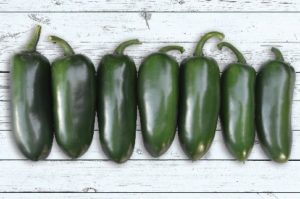 Emerald Fire brand of SV7017HJ
– All-America Selections® National Winner (Jalapeño)
Emerald Fire Brand of variety SV7017HJ gives you major bang for your buck! It's a hearty jalapeño pepper with a good disease resistance package and potential for minimum cracking, making it great for growers. Add it to any salsa for an extra kick!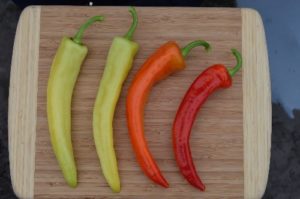 Hot Sunset brand of SV3301HW
– All-America Selections® Regional Winner (Hot Banana)
Hot Sunset hybrid peppers are a colorful variety of peppers that are easy to grow. They are naturally yellow at the time of harvest but when they mature fully, they can develop a deep red color. With their thick skin and a lightly spicy taste profile, they are ideal for stuffing and frying.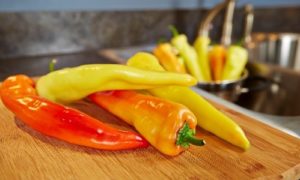 Sweet Sunset brand of SV3782PP
– All-America Selections® Regional Winner (Sweet Banana)
As multicolored as a twilight skyline, Sweet Sunset peppers are great for frying, pickling and cutting into pepper rings for salads, sandwiches and hot dogs. It has a good disease resistance package, high yield potential and is easy to grow. Sweet Sunset is a tasty addition to any home garden.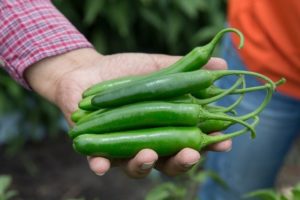 Flaming Jade brand of SV5633HT
– All-America Selections® Regional Winner (Serrano)
Flaming Jade Brand of variety SV5633HT is a serrano pepper with a little extra kick! Growers will appreciate its manageable size, high yield potential and disease resistance package in their garden. Salsa lovers will appreciate its smoky flavor in salsas and pico de gallo!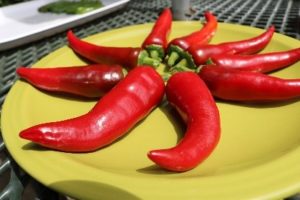 Flaming Flare brand of SV5232HY
– All-America Selections® National Winner (Fresno)
The perfect balance of sweet and spicy flavors, Flaming Flare produces beautiful red pointed, Fresno peppers that range in Scoville heat units from about 500-1,000. If you prefer your chili sauce sweeter tasting rather than spicier, pick these fruit early.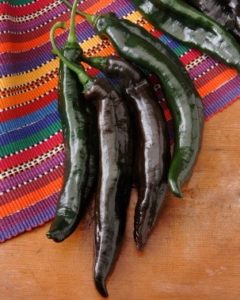 Holy Mole brand of Salvatierra
– All-America Selections® National Winner
Holy mole, this pepper is good! Holy Mole is a pasilla pepper with good fruit size. The dark, chocolate color and mild heat makes it a pleasant addition to sauces. Growers will love its adaptability and yield potential.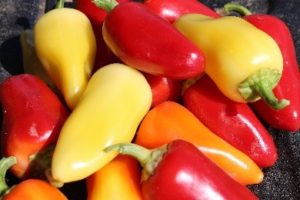 Mariachi brand of Rio de Oro
– All-America Selections® National Winner (Santa Fe Grande)
Mariachi will make you sing! Producing fruit with about 500 Scoville units, this blossoming yellow to red pepper has some heat, but it's not overpowering. We recommend adding it to your favorite medium salsas.
Additional Information
Bayer, Bayer Cross and Seminis® are registered trademarks of Bayer Group. AAS All-America Selections & Design® and AAS® are registered trademarks of All-America Selections. ©2020 Bayer Group. All rights reserved
Bayer, Bayer Cross and Seminis® are registered trademarks of Bayer Group. AAS All-America Selections & Design® and AAS® are registered trademarks of All-America Selections. ©2020 Bayer Group. All rights reserved