Isabelle Delannay, Ph.D.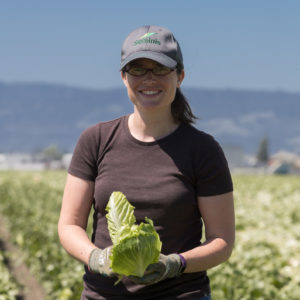 Brassica and Leafy Breeder
Experience: 8 Years
Isabelle Delannay is the Head of Americas Brassica and Leafy Breeding at the Vegetable Seeds business of Bayer. She breeds iceberg and romaine lettuce while managing the commercial broccoli breeder stationed at San Juan Bautista as well. A graduate of the University of Wisconsin with a Ph.D. in Plant Breeding and Plant Genetics, Delannay focuses her efforts in growers, especially when incorporating characteristics into varieties that will appeal to them and will benefit them with profitable harvests.
Combining her diverse background of having bred lettuce both in Europe and the U.S., she handles the ever-present effort of producing varieties that maintain a top market quality while displaying extraordinary resistance packages. She does this with a hands-on attitude with which she walks through the trialing process, making sure to see yearly improvement.
"I chose to work in vegetables because the product that I am breeding is the same product that the consumer buys in the grocery store. That direct connection between the consumer and my work is very important to me."